Hi All,
I've done a bunch of winter camping in my trailer in below zero weather where I've had access to shore power. The trailer is nice and cozy with its baseboard heater cranking out all sorts of BTU's. I've always kept the side windows cracked open maybe half an inch and the fantastic fan vent cap open about the same. The convective airflow carries away most of the humidity from our breathing but it's slow enough to keep the trailer nice and warm. We do get condensation and ice on our single pane windows but we wipe that down in the morning with a towel.
Here's the trailer: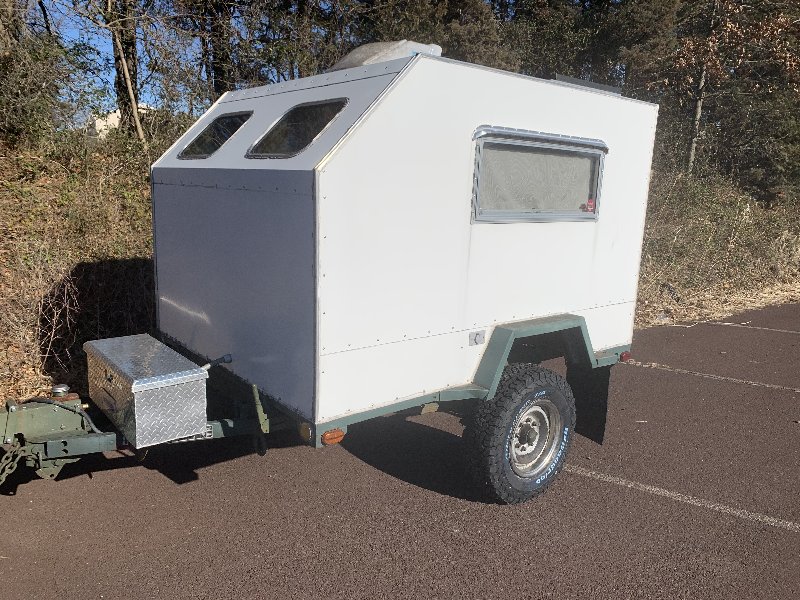 I plan to be camping this March for 3 consecutive nights on a wildlife management area with primitive campsites (no electricity). It's possible the temperature will be quite chilly overnight. I have electric blankets and the trailer is insulated on all sides, ceiling, and floor. However, without central heating, I'm thinking about what I can do to keep warm. I doubt I'll be able to run the electric blankets continuously, even with solar. Thus, this is what I'm thinking:
- Lots of extra blankets and quilts
- Wear a hat to bed
- Block off most windows with foam to reduce heat loss. Leave an opening maybe 1" tall on both side windows for airflow.
- Block off the ceiling vent with foam. I'm thinking since heat rises, this would be a major source of heat loss.
Here are my questions:
- What are your strategies for winter off the grid?
- If you have tried anything I listed above, how did it go?
- Is it a bad idea to block off the roof vent because of condensation inside the trailer?
- How much open air space in the windows is needed to keep the air breathable? (Don't want to get the CO2 levels too high in a small space.)
Thanks!
Lauren