Without question, the most dangerous part of my build has been working with aluminum, and I bet that will hold for most the people building. I did a search and it has been a while since someone posted on the safety issue with aluminum.
I had a little accident yesterday, and my guardian angel let me off with another warning. I still have both my eyes and ten working fingers. I was cutting some 1/6 aluminum flat with the chopsaw and at the end of the cut, the saw grabbed the aluminum and before I opened my eyes to do a digit check, all I could think was "Will Madjack really want to see these photos?"
I was extremely lucky. All I suffered was a bruised and nicked thumb and a botched piece of trim. It could have been soooo much worse. I put myself in "time out" (I frequently yell and scream at myself when I catch myself doing something really stupid!) and it got me to thinking about the danger of trying to use woodworking tools to do metal working. I know it can be done, and lots of you out there have probably done it on a professional basis. All I can say is that it is my opinion that woodworking tools should not be used for metal work, but if used for that (and I will be guilty of continuing to do so) extreme care should be taken to make sure the piece you are machining doesn't end up causing your body harm.
I hope that others with far more experience in this area than I offer their suggestions to help make sure no one has a very sad story to tell.
My limited suggestions--foremost, always use a full face shield, long sleeves, and if possible, gloves. Use backing blocks and feather boards where necessary. When ripping angle on a table saw, drop in a zero clearance blade insert, and use feather boards.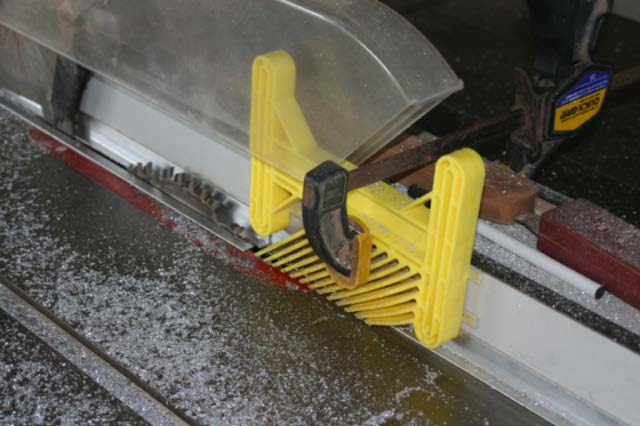 Better yet, order the closest size of uneven leg angle. If possible, cut with a bandsaw, shears, or tin snips. Try to find the right metalworking tools for what ever process you are doing.
Norm always starts his show with "Always follow the instructions for your machine and wear safety glasses." He is right.
Metal or wood, work safely! Or pray for a watchful and lenient guardian angel.