Since I'm a design as I go type, I found myself in a situation with a fender that didn't really fit like I wanted, (got a deal on an offbeat axle length). Wider wheels and tires might have taken care of this situation but it was too late for that.
First of all, I got the fenders from Grant. They are really really nice fenders, laid up in cloth not in shot chop and have plenty of thickness to them. These are the modernistics. The 9" was too narrow, barely covered the tread and the 11's that I bought were too wide for my tastes, made the wheel and tire look puny in there, and I spent too much $$ on those wheels and tires. Here's a before pic.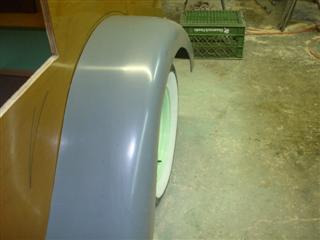 First, trace the fender profile on a stable surface that you can shoot screws or nails into, I brad nailed some backer blocks against the line. That way you can push the fender into them without tweaking the profile.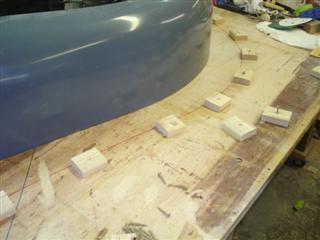 After you have determined just how much you want to narrow the fender, set the fence on the table saw and carefully rip off the interior flange. This gets reused. Mike A came by and it was handy to have another person to help do this as the curve of the fender caused it to be raised quite high at the end of the cut. Thanks Mike!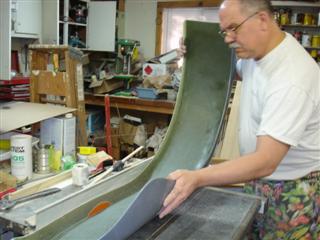 I ended up ripping off like 1.25" of material. I then laid down some strips of waxed paper so that the epoxy wouldn't let it stick to the table, laid the fender down against the blocks, scuff ground the gel coat on the top of the original flange and the interior of the fender. Buttered up both sides with some thickened epoxy and pushed the flange against the back side of the fender. I used some strips of 1/4" baltic birch as clamps to hold the flange flat on the table and it pushed against the interior of the fender. You should use enough epoxy to get some good squish out, smooth it with a finger.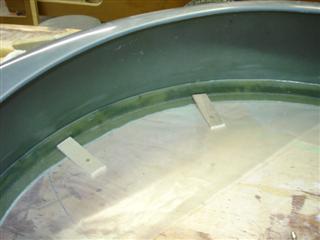 After the epoxy cured, I trimmed the extra bit of flange that was sticking out on the front portion with a grinder and shaped the front interior opening to a nice curve. I have the original flange installed on a narrowed fender. Total time was only like 1.5 hours for both fenders, not counting the cure time. I think they are every bit as strong as the originals.
Here's an after pic... Doug