Hi All.
Thanks for all the amazing info you've put there. As I've been obsessing, it's been incredibly helpful. I've hit a few spots where I can't quite find an answer yet.
Okay... my trailer plan is a bit different for a few reasons. I'm sort of putting a teardrop on top of a 3 foot-ish tall cargo space, and ending up with a sliced canned ham.
I travel quite a bit for work (I sell my metalwork at art shows around the country -- really bored? take a look at
http://www.worksofman.com
.) This means I've been staying too much in hotels. Sleeping in cities a lot, so actually the trailer needs a porta-potty/shower room so I'm not too smelly for the peoples, along with a minimal kitchen so I can make coffee. Likely that will be a box that can be taken outside when at campground; overall not a ton storage space since the tow vehicles will handle some of that. Relatively limited amenities, no AC, cooler vs fridge. Motel savings could pay this back reasonably quickly. It'd also help us to enjoy the travels to and from the shows more.
I carry about a 1000lbs of cargo weight. My display, tent, and the work I'm hoping to sell, currently travels in either in my TV or in a rented trailer (more savings!) if my wife is also doing the same show. (My stuff wouldn't fit in with her stuff in her vehicle.) So - I'd like to keep all my work and dislay in the trailer I'm building, and just switch the trailer between vehicles depending on if it's just me, or both of us.
So, my answer: a mid-height removable floor. When it's loaded, it's a teardrop, with enough space to sleep in, and not sleeping with the cargo. So, that's for travel to/from/in between the shows. During the shows, the stuff is out, the floors are dropped, and it's walkable. But nice solid walls, so the city is a bit quieter.
Fun stuff: hopefully a pop-top, so if it's full between shows and we're out, it feels open and amazing. Also, I want it to look cool, so the profile is from a 1957 Cardinal camper.
Trying to keep the trailer still fairly small, so it'll park in one parking space easily while on the road. We also have very little room for it at the house (likely won't fit in our 1920's garage). So, was originally looking at about a 4x9 trailer frame, over-fender construction, interior width of approx 6'. I've realized with the storage space needs a 4.5' to a 5' wide trailer frame would allow me to have an (almost) full height bathroom. (EDIT: Looks like I really need more of a 5 x 9 frame, or a 6 x 9 with with wheels under/through the deck)
At this point I'm thinking 'm going to weld the trailer frame. I have the welder... (TIG) but do I really have the time? On top of doing the rest? I will save about $1000 next spring if I can get this done (or at least waterproofed and towable/camp-able) by February. On the big-metal scale I'm not a great welder, but could get it done. Having someone else weld it likely isn't in the budget, unless someone knows someone affordable in the Pittsburgh area.
A few pics of the beginning sketchup plans... none of this is done, and I keep waiting to get more of the plans done before I posted the question, but thought I'd go for it. Plans are currently showing a welded frame. 2'6" height cargo space, 3'6" top space. Not showing any cabinets, although the front one shown will be a small kitchen area for campstoves and such. Bathroom stays full height (if I do the 5' wide trailer frame) and is inside the inner (two-part) door.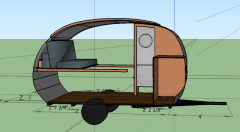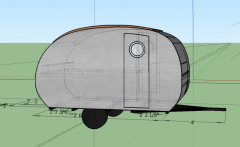 Here's the $1000 question...
I figure with appx 1000lbs cargo, I'm also lucky to keep the empty trailer weight at around 1300lbs... right? Seems to put me in an awkward weight space.
If the Northern Tool 5x8 Ironton trailer is used (minor 1' extension) for the frame, would adding a Dexter torsion axle and 15" tires make it work? I'd be adding in brakes, due to mountain driving and often already fully loaded vehicles.
and are there enough beers for this project?
Thanks for any thoughts y'all have. Sorry for the giant first post.
Cheers,
Matthew