I've been camping in a small softside popup with my family for 25 years, and now its time for something easier to setup for just me and my wife. There's nothing really out there we can buy that fits our needs, although an ALiner comes pretty close (but is way out of our price range). These are our primary considerations:
Small and light with a low profile – to be towed by a Dodge Caravan through the Rockies
Easy to set up – it still takes us an hour to fully setup camp in our popup
We need to stand up and have interior space (we go for 4-8 week excursions)
Better protection from the rain – not having to deal with a wet canvas
Good ventilation and outdoor views – we camp a lot in the high desert
Minimal amenities – we don't need water indoors, but a fridge would be nice (we don't have one now)
I've decided on a modified clamshell design, with a hinged roof at one end and foldable hard sides. The box will be 11 ft max, with a rear bed, front dinette, and cabinets between. I think I can keep the travel height to under 66" (It would be great to see out my rear view mirror!). And I want to keep it under 1400lbs.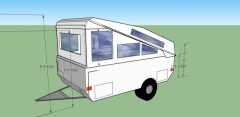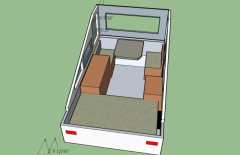 I've read lots of build logs, but haven't seen any that do what I want, although many have lots of design information that I'll build upon.
I have my donor frame - from an old palomino popup – I think I can use it with minimal modifications. I'm leaning toward a foamie build with hard edging to help secure the open box (like a traditional popup), and keep the roof as light as possible so we can lift it, with the help of gas struts). I will use PMF for the exterior, and maybe interior as well. The hardwall sides should be pretty light using the same type of construction, and most of the windows will be in these walls so I may have more leeway in building custom windows as they wont have to stand up to the most punishment while driving. I know I have a lot of water sealing to do where the walls meet, but the donor camper had floding hardwalls without any seals, and I may be able to use that hardware, or fabricate aluminum trim that diverts the rain. (More on this as I start my build…)
I don't know how to classify this – its not a teardrop, but I can use many of the td build techniques. One big question I still have is which orientation is more aerodynamic? I chose the 'reverse' teardrop style as some of the larger hardshell campers are like this, but could I change the orientation to look be more like a teardrop, as the highest point will still be a little lower than my tv.
Any comments or suggestions are appreciated. I'm still at the design phase, but have my frame stripped and will start prototyping some of the more difficult aspects of the build soon.