Feral dogs in Native American tribal lands
Posted:
Mon Jan 22, 2018 9:43 am
I am planning a camping trip in September to Monument Valley, with my wife and our 15 lb dog. I have read that packs of feral dogs can be a problem when visiting tribal areas. Has anyone experienced problems while camping with dogs in tribal lands?
Also, any suggestions for dog-friendly hikes and/or parks in New Mexico or Utah would be greatly appreciated. We're in North Carolina, so we'll need to plan carefully, especially with a dog in tow.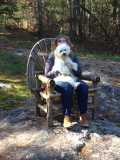 Thanks!