These are my own opinions from research and recent personal experience with the Timbren axless system
A few years ago I was looking to build a small utility trailer to carry our camping gear and pull behind my Jeep. I did a lot of research on off road trailers, suspension systems etc. and stumbled upon the Timbren Axless system. I saw the advertisement but at the time no one was selling them. In my Jeep trailer research people typically used a 3500lb axle with springs and shocks for their Jeep trailers. I read where a lot of folks had issues with a lighter 2000 lb axles with them, breaking on rougher wash board roads. Springs axles also bounce a lot. I then decide I would just build a teardrop trailer instead and decide to look into axle for it.
I knew from my research that I could remove a spring from the pack to soften the ride, and I could add shocks to help with the bounce and rebound. I read several reviews and wasn't complete sold on the plan. I then decided to look at air bags and torsion axles. The air bags seems like a lot of work and seemed to me they would be best if you had an on board compressor. The Dexter torsion axle was another option. I admit I didn't look at it too much, maybe I should of. I had not settled on my final trailer frame design and width and I was intrigued with and decided to relook at the Timbren system. I wasn't planning on harsh off roading but knew I would like to take it on some desert dirt roads that are wash boarded pretty good. Note: the Timbren system uses hard rubber jounce springs with progressive rate (They may be hollow, I do not know) and a rubber rebound spring, they are not pumped with air like an air bag system.
I didn't plan for brakes on the small 4'x6' Jeep trailer, but I did want to use a set of Jeep wheels. I knew from my experience that utility trailer typically have small hubs, small wheels and most are rated at 55 MPH. I want to use 30" Jeep tires and wheels, brakes and be able to go 65-70 MPH with a smooth quite ride.
I then saw that etrailer was now selling the Timbren system (I found out it is made in Canada). I had originally looked at the 1200lb system for my Jeep trailer. I noticed they had a 2000 lb system and my best estimate my teardrop will be around 1300lbs empty. I read that some folks had issues with a 2000 system on rough roads and since the cost and weight isn't much different I decide I wanted a heavier duty 3500 lb system.
I wanted brakes on my trailer and was going to use my Jeep wheels 5"x4 1/2" and I knew I was going to need a 2" wheel spacer to move the wheel off the hub to clear the hub/bearing. I had contacted Timbren with some questions and found out they had a 3500 lbs axle that uses the large hubs, bearings and 10" brakes but had a 2000 lb rated spring which should give a better ride for a lighter trailer. This peaked my interest so I used their specification sheet and drew up my trailer a design.
The price is higher but I didn't need any shocks or fabrication for the shock mounts so the install should be easier. Once I was ready to build my frame I decided I wanted to try the Timbren system so I ordered the ASR2KHDS01 which is their heavy duty 2000 lb rubber springs with 3500 lbs components and larger spindles that accept the larger bearings and 10" brake. They also offer a 4" drop axle and a HDS02 longer spindle version for wide tires. Since I was already going to use 2" wheel spacer I wanted the HDS01 which has 6" from hub face to frame, with the 2" spacer I would have about 8" hub face to frame and with my jeep wheel offset this would put the fender about 1 to 1.5 inches from my walls. A small gap I could work with. I didn't want a really low deck since I was pulling with my Jeep so I stayed with the straight spindle which puts my floor at just under 21" off the ground. Both the wife and I tested the height and it is just right for being able to sit down in the door way and slide in. Also the counter in the Galley will be at a good height for us. As a side note the total deflection from empty to full is 1 5/8" so you can have your fenders a little closer to the tires than maybe perhaps a leaf spring system.
I ordered the Timbren system with hubs and brake plus several other items for my trailer. I received several boxes. When I opened them the Timbren was in two parts and the packing sheet said I received the ASR2KHDS01. One assembly is the spring assembly that bolts onto the frame as shown
The other is the spindle that bolts onto the spring part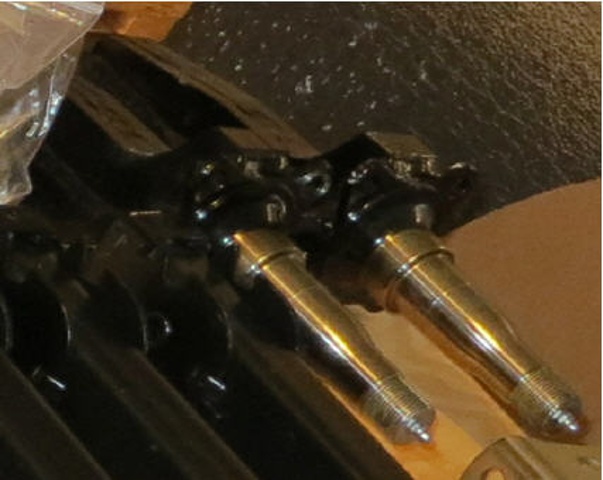 Since I wanted a lighter frame I built my frame out of 14 gauge 2x2 square tubing on the outside with 1/8" 2x2 angle iron for cross members. The axle assembly mounts to the frame with three 1/2" grade 8 bolts through the frame. The Timbren install directions said to measure from the spindle ends to the center of the tongue(make a triangle) and make sure both side are square. I did this and drilled my three ½" holes in each frame rail. Once mounted I checked with a large square that the wheel hubs where parallel with the frame rails. I also made a 3/16 steel backing plate for the inside frame rail to prevent any potential collapsing of the frame tube when tightening the through bolts. You can see these in the picture below.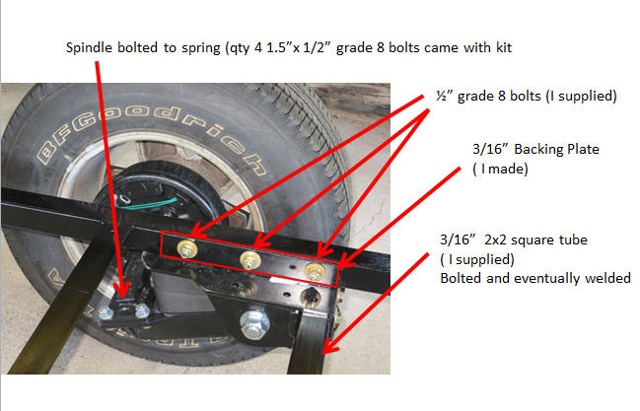 Since I didn't have a cross member where the Timbren bolts onto the frame, and I was using 2x2 angle iron for center cross members I decided to just use a 3/16" 2x2 square tube to connect the two axle piece together to ensure the frame is stiff enough to prevent no frame twisting or excessive bending occurs. You may need to use a ¼" 2x2 square tube if you are going use the trailer at the higher rated weight limits. The cross member is just under the frame rail so it is higher than an axle and spring setup. With my 30" Jeep tires I have about 16.5" of clearance between the ground and the bottom of the cross axle. If you wanted you could design your frame so there was a cross member and not even need the 2" square tube (Gaining an additional 2" of clearance). I added it for extra assurance, and wasn't worried too much about the ground clearance (No planned hard core rock climbing with the teardrop).
In this picture you can see the hole provided in the spring assembly for the 2x2 square tube. Per the directions it is bolted in two places on each end and then welded on the ends. I have not welded mine yet, so I can take it on and off as I build my trailer. Next spring when I am complete with my build I will grind the paint off the ends and weld it flush.
This picture is an outside frame view with the spindles off. I remove the wheels and spindle arms and built a dolly that uses the same mounting bolts so I could move my trailer inside for winter building. The height of the floor is the same as with the wheels one.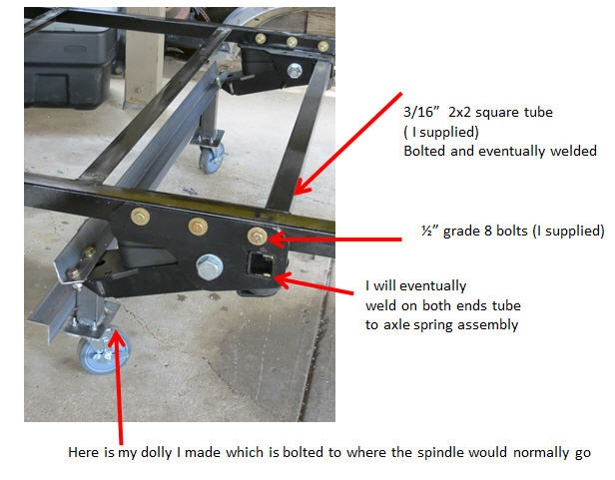 I only had one issue with the system. After I got the spring axle assembly mounted to the frame and installed my spindles, hubs, wheel spacer and Jeep wheels the overall trailer width (outside tire to outside tire) was more than 4" wider than I planned. I went back to my drawing and then the Timbren specification sheet and measured it all again and found that I was seeing 8.5" hub face to outside frame (10.5" with wheel spacers). When I centered the fenders over the wheels I was going to have over 4" gap between inside fender edge and where the wall would be. This made my fenders have a gap of over 3" from the wall. I decided I had received the wrong spindles. I called E trailer and in turn Timbren in Canada and determined that was true (No one really knew how it happened, since it was supposedly boxed from the Timbren factory and shipped via etrailer, and I had thrown away all of the boxes and couldn't check the part number on the box). I found out the only different between the HDS01 and HDS02 was the spindle bracket length (frame to hub face). Timbren shipped me a kit to get back to the original specs.
Here is a picture of the correct length spindle
Hers is a picture of the completed frame with axle and tires
While I have only driven the trailer with floor attached around the block a few times it drove smoothly. No bouncing even with an empty trailer and the 2000 lb springs. It was quiet and seems to be a ride great. Only time and usage will tell if it has any advantage over one of the other axle systems.