Northern California's McArthur-Burney Falls State Park is so popular that reservations are best made six months in advance; and, with its large lake, beautiful waterfall and trails, it is no wonder. So, you can imagine my good fortune when I found an available campsite for a short trip!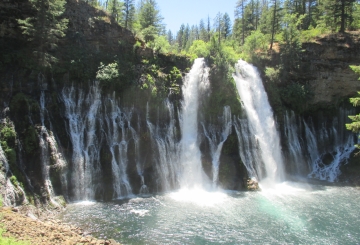 The waterfall has often been called the eighth wonder of the world because much of its water comes out of the sides, rather than the top.
The picture of the lake, below, is only a partial picture because the lake curves around the campground and there is no good way to stand on the shore and capture it all: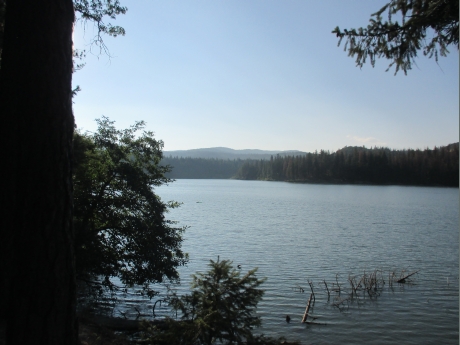 With every campsite taken, you'd expect the campground to be noisy and messy; but, it isn't. The large campsites are placed far apart and the restrooms, with token-run showers and water-saving Kohler toilets seem to always be neat and clean. There is so much to do during the day that everyone is gone to the lake, waterfall, trails or sight seeing. They return from their spectacular day and happily fix their dinners and bed down for the night to rest up for the next adventure in the morning; so, noise is minimal.
In backing into what I call my "good fortune" campsite, I saw that my next good fortune was to be camped beside a teardrop that I had not seen. Even before I was finished setting up, I excitedly went over to talk to the owner and get a quick look.
While at first glance, it looked like a manufactured unit, it was beautifully handcrafted and the owner didn't even know about our tnttt forum! With that, I decided that a more extensive look was indeed warranted.
This 1100 lb, 5x10' trailer was well planned and the build, well executed, from the chassis and tongue box all the way back to the exceptionally built galley. Rather than use a lightweight Harbor Freight trailer, he re-purposed a heavier trailer found on a farm. The sides are 1/2 inch maple plywood, cut with a CNC mill by a friend; and then, he sent those sides out to have their exteriors powder coated blue.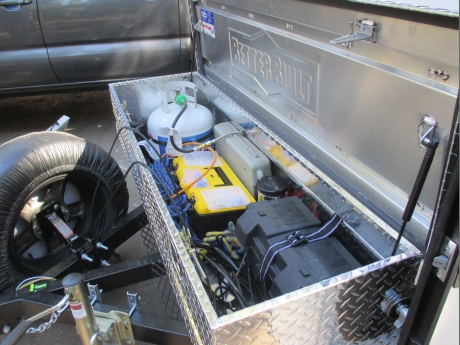 The camping interior was kept clean and well-appointed. (I had him open one side of his cabin cabinets so you could see more detail.) The roof has 1" insulation and the ceiling is covered in 1/8 inch PVC sheeting. (Sorry for the dust spots in this picture.)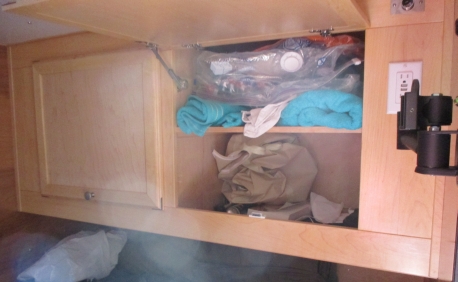 The galley shows so many innovative ideas. It has a removable sink on one side, with two removable water storage units and a wheeled gray water tank. There is also a side table (not shown) that can be slid onto the other side. He had both a propane stove and a propane barbecue and he wondered why more people didn't mount a barbecue in their galley. Both units are on 50 pound drawer slides like the ambulances use. He pressed the yellow buttons to lock and unlock each.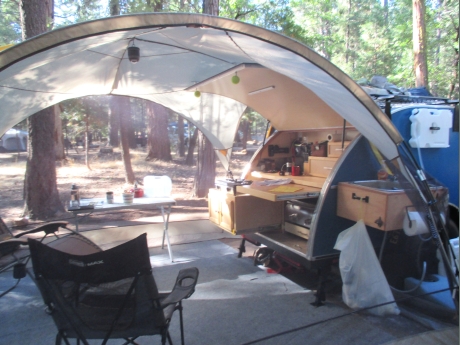 Most everything in the galley was organized in drawers; but, I liked the magnet idea that he used for his salt and pepper!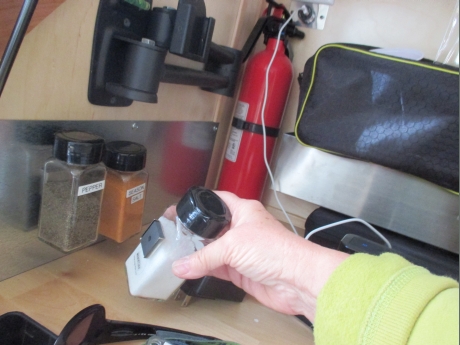 The cutting board, also a roll-out, was hand made by the owner, gluing strips of two different woods together.
He even had a personalized plate inside the galley!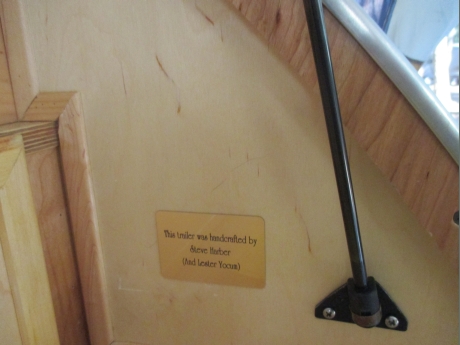 I hope you enjoyed the tour!