Cajun Blackened Redfish
Took this one off the internet a while back, modified it for camping purposes and tried it last weekend; it were excellent!
Not a true "blackened" recipe but is very good.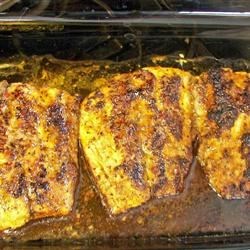 Ingredients
* 1/4 cup butter, melted
* 1 teaspoon cayenne pepper
* 1 teaspoon freshly ground black pepper
* 1 teaspoon lemon pepper
* 1 teaspoon garlic powder
* 1 teaspoon salt
* 1 1/4 cups Italian-style salad dressing
* 4 (4 ounce) fillets red drum
Directions
I made up the mixture at home (besides the redfish) and refrigerated it in a tupperware container.
At camp, I took my 10 inch skillet and seared the redfish on high-heat in olive oil with kosher salt and fresh pepper for a couple of minutes per side.
Then add the mixture, lower heat to simmer and cover with tin-foil for 20-30 minutes.
Good stuff...