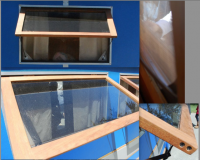 This was made several years back. I uses 2 hinges on top, corners are attached with 2 screws, glass or plexiglass inserted, has two catches that go though the screen small triangle sheetmetal pc's with holes in them support the screen and make it easy to lock.
Angib drew below in 2012.
http://tnttt.com/posting.php?mode=quote&f=21&p=957807
Simple and good looking. I am going to try and make these for the windows on the trolley top on the Cross bow. They were designed to go on a much larger travel trailer. as seen on facebook below
https://www.facebook.com/44577447219767 ... =3&theater
Next month is the 2017 vintage trailer show in Pismo Beach. open house May 20, 2017
below is a link to last years event with many pictures of what will be there this years.
https://www.facebook.com/Pismo-Vintage- ... 472197676/
Ron