After the corner bead dried on, I cut out the canvas for the wheel wells. I did cut a little long to account for any shrinkage that might happen. Then I just laid the pieces on the bottom of the camper and painted the one side, and then put them in the fresh paint on the foam.
They dried nicely, and I'll probably run a bead of caulk in the corner before I finish.
I haf been trying to figure out what to do about preshrinking the canvas, and not really wanting to try dealing with the whole 22 yards, but also being nervous about trying to measure and cut the roll into sections. I was concerned that I would mis-measure, or the like, and end up wasting large sections.
So, I decided that I would roll out enough for the bottom, plus about 30% extra, and just get it nice and wet.
I used cold water, and even with that, on a day that was only about 70 degrees, the amount of shrinkage was impressive.
This was about a 3-foot section, and it took me about 5 minutes between wetting the one side until I got to the other side.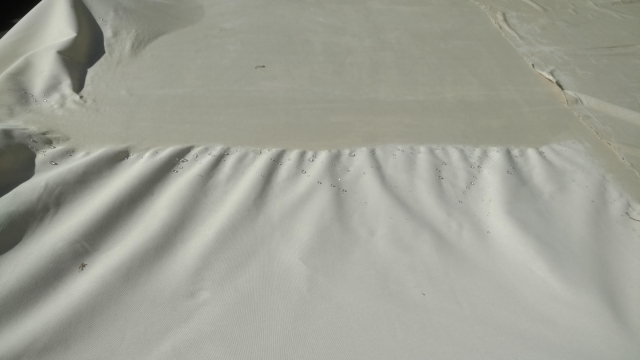 After this dries, I figure I'll flip it over and soak the other side just to make sure all the fibers got nice and wet. Then, I assume that the paint won't really shrink anything more than the water did.