Claimed some of the old family camping equipment at a recent cleanout and yard sale event, including some aluminum pots, plates and a 9 cup Comet aluminum coffee pot; the one with the wire bail handles suitable for camp fire cooking, not the black Bakelite (?) handle. Well the lid to the coffee pot went missing somewhere along the way (darn), so I went onto e-blasted-bay to see if I could find one.
There were plenty of 7, 9, and even larger 20 cup pots, both with plastic and bail style handles, but I didn't really want to have two of them, especially with only one lid.
Then I spotted this cute little 2-cup version. It's about 3 or so inches in diameter and maybe 6 or 7 inches tall.
The ad said it was in good condition and looked so in the picture. Apparently I was the only bidder and won it at the opening bid price of $8.99 (…add $12.50 for shipping, ouch).
I figured if it happened to have the same size lid as the 9 cup it would be nice to have both a functioning 2 cup pot as well as a lid for the 9 cup pot. It didn't work out that way, but that wasn't a show stopper for me.
Well it arrived and is in very good condition, except after taking out the packing stuff that was crammed into it for shipping I found that the little stand pipe section that roll crimps into the center of the basket (kind of like a rivet is formed) had broken free.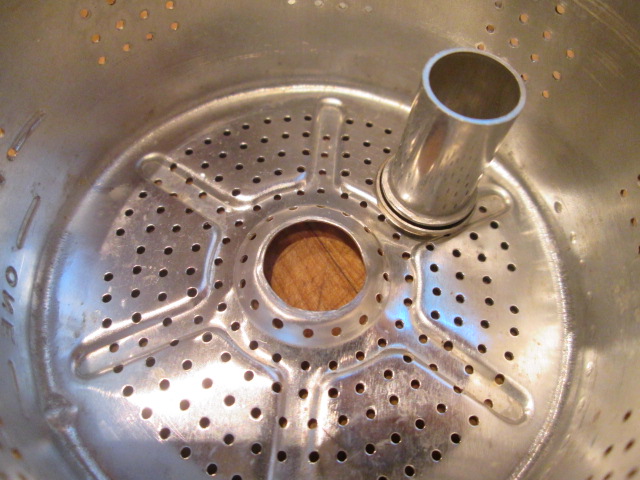 It would probably make good coffee still, if the grinds don't slip past this breach in the basket, but for the money it shouldn't be broken. I have notified the seller and am waiting to hear back.
If you have some old derelict Comet coffee pots with a good lid for a 9 cup'er, give me a shout; I'd give a couple few bucks plus shipping.
Note: I am aware of the discussion on whether or not aluminum cookware causes Alzheimer's. Let's not make this about that… again. I don't normally use aluminum cookware and am not sure if I believe the "science" either way; but am sure that it won't kill me to use once in a blue moon.