While I've seen DIY doors for teardrops, a taller door for a canned ham makes me worry about warping, etc. That said, I still really sort of want a better shaped door than the standard RV door.
Anyone built their doors? Wondering if I should weld a frame, insulate and skin... or am I just adding more nightmares to my complicated project?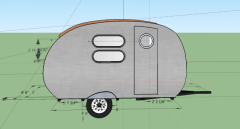 While I might not be able to do the windows I wanted in the original pic above (The idea for those windows coming from
http://www.vintagecampers.com/parts.php?category=Body%20Parts&sub=Windows
-- I think that's adding too much trouble. Dang it.), it still would be nice to have the curve on the door. Might be bloody foolish, though.
Any thoughts?