slowcowboy wrote:So its Feb its cold its snowy and in Wyoming camping tine ant till june....fleabook boring so is dating sites the tear forums been slow go this winter....any thing new in camping world going on latley.....any new camping ideas????....slow..
In between sanding epoxy, I started making a list of places to go and things to see. (And urging Shelly to do the same--I'm just not going to catch the best doll house museums on
my
list!) Started with the Interwebs, but something was missing. Then I pulled out an old atlas (I've heard the new ones from this place aren't as good), and suddenly remembered a lot of places I wanted to see when I was a teenager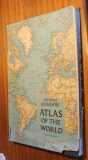 There is a map of sites run by the US park service, another one of Civil War battlefields, and maps with all of the national parks in Canada (all circa 1975). We'll get the details from the web, and roads from Google or more up to date maps, but this was a better starting place: Turning the pages while keeping warm with a fire.
Tom